Mobile devices have many uses in today's modern society. They have become indispensable to almost all people. These mobile phones can do multiple tasks. And because of that, their batteries can easily dry up.  We can't make our batteries last longer, so we need chargers. However, sometimes we need to recharge our phones faster. This is when a fast charger becomes essential to people who value their time. Through fast chargers, we don't need to wait much for our phones to charge.
There are wide selections of wired and wireless chargers in the market. You can choose whatever suits your expectations and need. Some may give you convenience and some offer efficiency.
In this article, we will discuss some of the best fast chargers available in the market.
10 Best Fast Chargers For Mobile Phones
Ahutoru Wireless Fast Charger
If you're looking for a fast wireless charger, then you should check out Ahutoru's offering. What's good about this charger is it eliminates the need for charging cables. This fast wireless charger can identify if your phone either runs on Android or iOS. Aside from that, it is compatible with the latest phones in the market. It has a built-in Automatic Temperature Balance feature to keep you and your phone safe at all times. 
Check out the Ahutoru Wireless charger today and enjoy hassle-free charging for your phones.
Pantom Adaptive Fast Wall Charger
Pantom's Adaptive Fast Wall Charger is one of the highest-rated fast chargers on Amazon. With a score of 4.5 stars out 5, it is clear why this is an Amazon's Choice product. This is the charger for people who would like a quick charge before heading out. It can charge your phone faster than 75% of most chargers in the market. This charger also has built-in security measures to ensure your phone's safety.
Check this product now on Amazon and get two fast chargers for a very friendly price.
PowerBear Fast Charger
This USB fast charger is an efficient and cheap choice for a fast charging wall charger. It supports Qualcomm Quick Charge 3.0, which provides faster-charging speed. Also, it has an adaptive technology feature. It intelligently detects the phone connected to it. Its small, sleek design comes with a foldable wall plug which makes it ideal for travel. Moreover, its fail-proof built-in IC helps in protecting your devices from short-circuiting and overheating.
PowerBear Fast Charger is compatible with Samsung Galaxy S10/S9/S8/S7/S6, iPhone 11/X/XR/8/7, and Pixel phones. It can charge your devices up to 80% in 30 minutes. Try out this product now and power up your phones more efficiently.
Anker Powercore II Poweriq 2.0
This charger is one of the new generations of chargers that intelligently identify the connected device. With that, it can deliver the fastest possible charging speed that your device needs. Also, it adjusts voltage output for optimized charging speeds. Its USB-C port is compatible with both Qualcomm Quick Charge 3.0 and Power Delivery, which gives broad support to a wide range of devices.
Anker Power II works with Samsung Galaxy 8, LG V20, HTC One A9, Samsung Note 7, iPad mini, and iPhone7. Also, it works with almost all phones that have fast charging circuits. However, the time of charging is different for different phones. Check the Anker Powercore II now and charge your devices without having to wait for hours.
RAVPower Wireless Charging Stand
It is one of the most useful wireless chargers on the market. It has two charging coils and an advantageous design that allows you to charge your phone vertically or horizontally. Moreover, it intelligently identifies and detects your phones and charges them immediately. It is safe to use, for it features triple temperature control. Also, it is protected against overcharge, over-current, over-voltage, overheating, and short circuits. It stops charging if it detects metal or magnetic objects.
RAVPower Wireless Charging Stand provides fast wireless charging for all Qi-compatible smartphones, Samsung smartphones, iPhone X, and iPhone 8.
Samsung 45-watt USB-C Wall Charger
This is a modern fast charger embraced by Samsung. It has a 45-watt super-fast charge capability and uses Power Delivery that helps provide the most efficient charging experience. Also, it has detachable USB-C to USB-C cable for syncing your smartphone with compatible laptops while on travel. Its reversible USB Type-C connector lets you connect your cable to your device in the direction that you want. Moreover, its USB Type-C cable helps in powering your device and transferring files, photos, and music.
Samsung USB-C wall charger is compatible with USB 3.0 PD compatible devices, including Samsung Galaxy Note 10 and Note 10 Plus.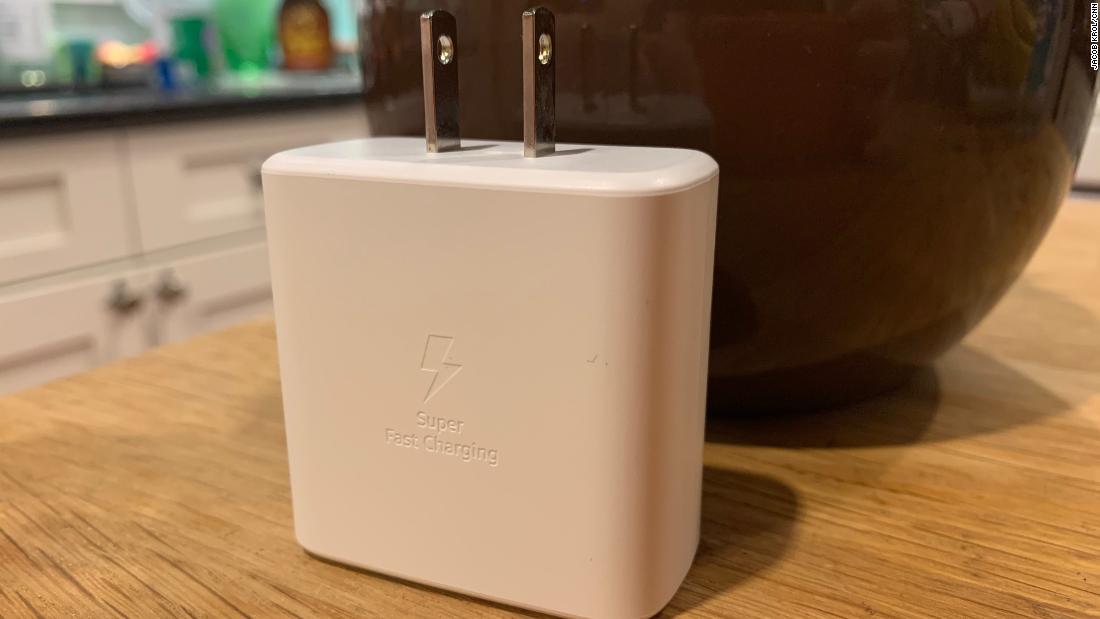 RAVPower 36-watt Dual QC3.0 Charger
This is one of the best fast charge wall chargers available, for it offers dual Quickcharge ports. With that, you can charge both your power bank and compatible phones at lightning speed simultaneously. It is also an ideal travel companion because of its foldable pins and slim measures for secure storage. Its innovative technology helps in adjusting output current to optimize charging speed. Also, it has protection against overcharging, overheating, power surge, and short-circuiting.
It is compatible with all Quickcharge 3.0 compatible Android phones such as LG G8/V40/V30/G7/G5/G4. Moreover, it fast-charges all Samsung phones, including S10/S10+/S9/S9+/S8/Note 9/8/S6/S5/S4, and all iPhones, including the new iPhone XS/XR/X/8/8+. Check out this product now to power-up your Android or iOS phones.
Yootech Fast Wireless Charger
This wireless charging stand enables you to charge your phone 20%-30% faster compared to standard wireless chargers. It has a built-in cooling system and heat emission hole that keeps the charger run at a low temperature. This ensures the highest charging speed. The multifunctional intelligent protect technology will defend your phone against overcharge, overcurrent, and over-voltage. Also, it has temperature control.
Yootech Fast Wireless Charger has three charging modes, the 7.5W, 10W, and 15W metal wireless charger. The 7.5W charging mode is for iPhone 11/11 Pro/11 Pro Max/XS MAX/XS/XR/X/8/and 8 plus with the latest iOS system, while the 10W charging mode is compatible with Note 10/10 Plus/S1/S10 Plus/S10E, and Note9/S9/S8. However, the 15W charging mode works on any Qi-enabled devices like Google Pixel 3/3XL/4XL and other Qi-enabled phones. Check this product now on Amazon and enjoy hassle-free wireless charging.
AUKEY 2-Port USB Wall Charger
This powerful and portable two-port charger lets you charge two devices at once. It is handy and very ideal to bring during travels and business trips. Moreover, it can charge compatible devices 4x faster than conventional chargers. It has an EntireProtect feature that protects devices against overheating, overcharging, and excessive current. Moreover, it works with Quick Charge 2.0 and charges all standard USB-powered devices at up to 2.4A.
AUKEY 2-Port USB Wall Charger supports fast charging for Samsung Galaxy S9/S8, Note8, LG G6/V30, HTC 10, and iPhone 11 Pro/Max/11. Check out this product now on Amazon and charge your devices without having to wait for a few hours.
Anker 18-Watt USB Wall Charger
This feather light fast charger has an excellent build quality. Its Power Delivery gives your USB-C phones and tablets a power boost by providing a high-speed charging capacity. With its compact, pocket-sized, and foldable plug, you can charge your devices everywhere. Also, its MultiProtect feature gives protection against overcharge, overcurrent, and temperature control.
Anker 18-Watt USB Wall Charger fast charges Fast-charges all QuickCharge 3.0 Android phones such as Mi 9/8, LG G8/G7/G5/G4, and the latest Samsung phones including S10, Note 9/8/S9/S9+/ S8/S6/S5/S4. Additionally, it charges all iPhones, including the new iPhone XS/XR/X/8/8+ at twice the speed of Apple iPhone chargers. Check this product out on Amazon today and experience faster charging for your smartphone.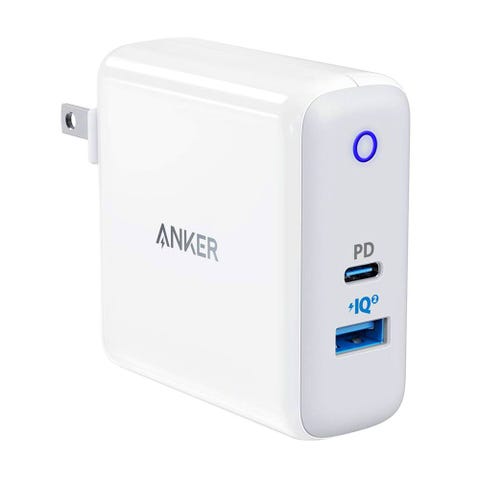 How Fast Chargers Work?
When a current passes through smartphone batteries, they are being charged. The greater the current and the higher voltage the faster the battery gets charged. Fast charges work with specific cables and chargers. Fast charging increases the supply of current to the battery to satisfy its capacity in a faster manner. But all fast chargers have a common mission, which is to provide more power to a device.
Types Of Fast Charging Standards
USB Power Delivery (USB-PD) By USB Implementers Forum
This is designed to quickly charge a wide range of devices over a USB connection. Its primary motivation is to produce a single charging standard, so there's no need to have different chargers for different products. Additionally, it allows power to flow both ways, making each device to be charged by one another. It can be found in Google Pixel phones and some of the newer iPhones.
Qualcomm Quick Charge By Qualcomm
This is designed to provide lightning-fast charging to compatible devices. Moreover, it powers your devices 4x faster than conventional chargers. It is the first fast-charging standard in the market that can be found in many Android phones, including the LG V40, Xiaomi Mi 9, Samsung Galaxy Note 9, HTC U12 Plus, and many more.
TurboPower By Motorola
This is the fastest charging available in the market. It is designed to give you hours of battery life in just a few minutes. It uses the phone's software to monitor the battery. Moreover, it supports a wide range of smartphones that will benefit its blazing-fast charging speed. The smartphones that can take advantage of it are the Moto Z Family, Moto Mods, Moto G6 Plus, G6, Moto X4, Moto M as well as USB-C compatible Samsung, Huawei, Xiaomi, OPPO, LG, Lenovo, ZTE, Vivo, Sony, HTC, Nokia, Asus, OnePlus, and Google Pixel series.
Adaptive Fast Charging By Samsung
This is the smartest option on charging your Samsung mobile devices. It is speedy and intelligently charges your phone, for it knows when to stop charging. This helps to prolong the life of your battery. It is available on Galaxy Note10, Note10+, Fold, S10e, S10, S10+, Note9, S9, S9+, Note8, S8, S8+, S7, S7 edge, Note5, S6, S6+, and S6 edge.
How To Take Care Of Your Fast Chargers
Fast chargers are of big help to us so we need to take good care of them. Here are some tips on how you can prolong the life of your fast chargers.
Unplug the charger from the adapter. Do not pull the cord, for it may cause internal damage.
Always keep your chargers dry. Chargers are not waterproof. Keep them away from any source of water.
Keep your chargers in a cool place. Do not store them in a high-humidity place.
Always keep your chargers in a safe place. Keep them away from your pets.
Clean the surface of your connector occasionally by using alcohol.
Keep Charged! Don't Wait Too Long
Not only smartphones are indispensable but fast chargers, too. Fast chargers benefit us by prolonging the life of our smartphones' batteries. They help us recharge our devices over a shorter period compared to regular chargers.
Fast chargers were created for convenience so that charging time may be reduced. With its promising features and customer demands, it's no wonder why a lot of companies release different types of these fast chargers and yearn to produce better products as time goes on. Moreover, as there are many types of fast chargers, knowing what's the most compatible with ones' gadget are a must. With proper knowledge and handling, your device will acquire the most out of your fast charger.