Huawei is one of the biggest brands for mobile devices. However, Huawei is facing a big problem as Google stopped allowing Huawei phones to access Android services. With this, Huawei can't preload its future phones with Google apps and other Android services. Thus, this led to Huawei to speed up the development of its OS, Harmony.
In this article, we will discuss everything that you need to know about the Harmony OS.
What Is Harmony OS?
Harmony OS is a free microkernel-based operating system. This OS aims to deliver a unique user experience across different devices and scenarios. Huawei has been positioning it as much more than an alternative to Android. Its main goal is to support different devices such as smartphones, smartwatches, and TVs.
Huawei started developing its OS way back in 2012, but recent events have sped up its development.
The Goal of Harmony OS
Huawei Mobile Services (HMS) will be the central feature of the Harmony OS. This will allow your Huawei phone to connect to your Smart TVs and watches using the same OS. This will also replace all Google-related services moving forward.
Aside from phones, Harmony OS will also be compatible with laptops that have 12GB of RAM. Huawei's consumer business' CEO said that this OS could be ready for markets outside of China. Estimated to be in the first or second quarter of 2020.
What is a Microkernel?
Before you get confused with what a microkernel is, let us discuss them to you. It is an integral part of an operating system and acts as a middleman between the hardware and the application.
Products That Run On Harmony OS
Huawei Vision
The Huawei Vision is a smart TV that fully supports 4K images. This will allow its users to use this TV to watch 4K movies and video games.
Specs include the Honghu 818 chipset with 6GB of RAM and 64GB of internal storage. It has eight high-quality speakers, one subwoofer, and one reflector Intelligent Sound System. The Huawei Vision also features IoT control functionality. It also has a pop-up webcam that you can hide any time.
Huawei Vision enables users to perform file sharing to a TV via a share function. It can also connect from smartphone to TV via One-Hop Projection. This product can function as a Bluetooth remote control with an AI assistant.
Huawei Honor Vision
This smart TV has a 55-inch display that is 4K and HDR playback capable. It's 6.9 mm thin and features a metal bezel plus a curved border. Also, it claims to support an 87% NTSC full-color spectrum. The Huawei Honor Vision features 178-degree viewing angles and 400 nits of brightness. A quad-core Honghu 818 processor powers the whole TV and makes it as efficient as possible.
It is the largest screen to feature HWA Bluetooth and Bluetooth 5.0 functionality. Its built-in pop-up camera is AI-enabled and features a 1080p HD capture. This smart TV also has facial recognition and posture detection features. The Honor Vision will also support smartphone features and has 2GB of RAM with 16GB of storage.
Huawei Honor Vision Pro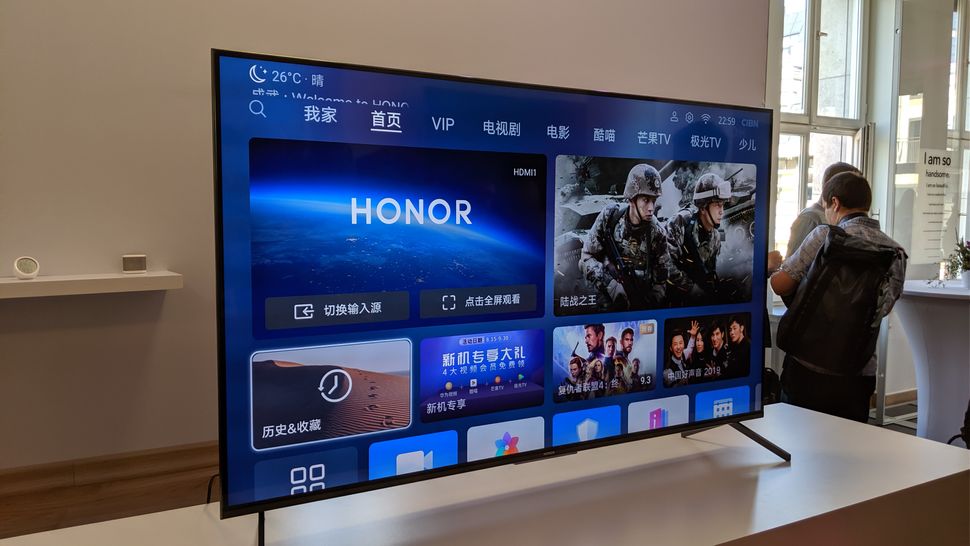 It has a slim design and comes with an adjustable pop-up 1080p webcam on its top. It also comes with six 10W speakers and six far-field microphones. This product features a Honghu 818 chipset, 2 GB of RAM, and 32 GB storage. Also, it has an HDR feature that gives better color saturation and motion sharpening tech.
Features Of Huawei's Harmony OS
To give the best experience to consumers, Huawei HarmonyOS with four excellent features.
Continuity
Harmony is the first-ever OS to adopt distributed architecture and distributed virtual channel technologies. Harmony OS also provides a shared communications platform and distributed data management. It can also handle distributed task scheduling and virtual peripherals. With HarmonyOS, app developers need not deal with distributed apps anymore. This allows them to focus on their service logic. The development of distributed apps will be much easier than before. All apps created on Harmony OS can run on different devices.
Smooth Functionality
The OS uses the Deterministic Latency Engine to deal with slow response times and lag. Also, it will make use of the Inter-Process Communication productivity feature. The Deterministic Latency Engine sets priorities for tasks and time limits for planning. Resources will favor tasks that have higher priorities, reducing delay by 25.7%. This microkernel OS can make the efficiency of IPC performance better.
Security Of Harmony OS
Harmony OS uses a new microkernel design, which provides enhanced security and reduces latency. This microkernel simplifies functions and enables the implementation of as many system services. This also possible for non-kernel users, while also providing mutual security. The microkernel itself contains services such as thread scheduling and inter processing.
Harmony's microkernel design uses formal validation methods to regulate security and trustworthiness. This process underwent the Trusted Execution Environment (TEE). Formal verification methods are a mathematical approach to verify all running software paths. Traditional verification methods, like functional verification and attack simulation, are for select scenarios.
HarmonyOS uses formal verification in device TEE, which enhances security. Since the HarmonyOS microkernel has lesser codes, it minimizes potential attacks.
Unification
Harmony OS empowers cross-device IDE, multilingual unified compilation, and a distributed architecture kit. It is also capable of adapting to various controls. These include screen interactions, drag-and-drop control, and visual programming. This enables developers to build applications that can run on different devices. Which then creates an integrated ecosystem for all the users' devices.
Huawei ARK is a static compiler comparable to Android's virtual machine. This allows developers to combine high-level languages in a unified environment. Supporting this unified compilation in several languages can improve the productivity of said feature.
Harmony OS VS. Android VS. iOS
Harmony OS will not just primarily run on smartphones. Harmony will also be capable of powering smart devices just like Android and iOS.
According to Huawei, the Harmony OS is more flexible than Android. Huawei said that it is 60% faster and one line of Harmony OS code can do 100 lines of Android code. This makes Harmony OS efficient and powerful. Also, Android is a Linux-based operating system, while Harmony makes use of microkernels.
Harmony also has an improved multi-platform capability. Developers will only code once, and it will work on every device. Having Harmony OS installed on devices will allow apps to run with each other. Everything is shareable between different devices.
The Difference Compared to Other OS
Harmony OS is not looking to compete with Android. But Huawei claims that its distributed technologies are more efficient than Android. Harmony provides low latency and smooth interactive experience. It also has no root access, which was possible on Android devices.
Other systems are offering a seamless experience to their users. We are yet to experience Harmony OS and its full capability. But from what we have been seeing, it has a good amount of potential if done right. Also, for security and user privacy, Android is being questioned. While iOS enjoys the loyalty from its users.
What makes Harmony different is that it is a microkernel-based, distributed OS. This will allow the OS to deliver a smooth experience across all platforms. It also has a trustworthy and secure architecture. Also, it supports seamless collaboration across devices. Once you develop your apps, you can deploy them across a range of different devices.
Harmony OS For The Intellectual Era
Because of the trade ban encountered by Huawei, it sped up the development and unveiling of its Harmony OS. As of now, Huawei believes that it can revitalize the mobile OS industry. We can't be sure if it will happen. However, Harmony OS deserves the benefit of the doubt.
With this, we should not neglect and take for granted the capabilities of this Harmony OS and the developers behind it. Even if it may or may not be a major player compared to its biggest rivals.
However, through the developers' magnificent minds and people's trust, everything is possible. New inventions are rising, and people are more intellectual day by day.