Messaging apps are the most convenient and practical way to communicate and keep in touch with the important people in our lives and even in business. There are already many options out there, but only a handful focus on ensuring data privacy and security. This is when Telegram Messenger comes into service. It focuses not only on speed and security but also in protecting one's privacy.
This article aims to help people know what Telegram Messenger is and its features, and how it stacks up against other messaging apps on the market.
What Is Telegram Messenger?
This multi-platform messaging service has the same core functionality as the most popular messaging apps. It is an end-to-end encrypted and cloud-based distributed messaging app that is fast, simple, and free. More importantly, it prioritizes security. With that, the text, image, video, and file messages sent by its users are securely routed through encrypted servers in the cloud.
What makes this app unique is its "Secret Chat" feature. You can program the messages to automatically self-destruct on the participating devices after the users received and read them. You can send text and multimedia in Secret Chats without worrying that others, except the intended recipient, can see them.
Telegram Messenger is intended for different types of people. It is for everyone who is looking for a fast and reliable messaging and calls app. Moreover, if you are a person who is into pictures, it offers an animated GIF search, photo editor, and an open sticker platform. Furthermore, it is one of the best choices for people who take privacy seriously and have it at the top of their priorities.
It flawlessly syncs all of your devices. Your messages will always be available on all of your devices and even takes a little space on your device. Telegram is one of the best messaging apps on Android and iOS devices.
Telegram Messenger Features
Security
This is the most important and best feature of the Telegram Messenger app. Telegram makes use of MTProto, which is a protocol built on time-tested algorithms. Telegram enables high-speed delivery of messages even when the user is experiencing a weak connection. This protocol is divided into three components namely; the High-Level component, the Cryptographic Authorization component, and the Transport component.
In addition to this, the Telegram Messenger supports two layers of secure encryption. These are a combination of 2048-bit RSA encryption, and 256-bit symmetric AES encryptions, plus Diffie–Hellman Secure key exchange. Moreover, the chats, groups, media, files, or text are all encrypted in the same way. This protects messages and files when intercepted unless these were deciphered.
Telegram Bots
These are computer programs that have a wide range of capabilities. You can code these bots to add new features and enhance your experience while using Telegram. Moreover, if a user has good programming skills, they can write and publish their own bots to automatically perform some tasks.
Telegram Bot API
This is what the third-party developers use in creating their custom bots. With this bot API, users can make a bot for a simple task. Moreover, it will be possible for them to come up with more advanced uses like merging with third-party apps including WordPress, payment services, and social media platforms.
Support for Larger Groups
Telegram allows creating groups that can have up to 200,000 members per group. Also, it supports mentions, hashtags, and replies, which help provide structure, thus maintaining order and keeping communication to larger groups. With that, the members can easily search for any message posted within the group.
Moreover, the admin of the group can pin some messages on the top of the group that everybody can see. They can also mass-delete messages and restrict members from posting forbidden messages. in addition to this, there can be public groups wherein anyone can join and can help in discussions and collecting feedback. There can also be private groups wherein anyone can be an administrator and set a custom file.
Channels
This feature allows you to disseminate messages to a large number of Telegram users. It can accommodate an unlimited number of subscribers. This is a great feature as admins are the only ones who can post content. Moreover, it helps the developer to send important information, keeping its users updated with the latest news. Channels provide a convenient way to reach people directly by sending notifications to their devices. Users can have options to join and leave channels anytime they want.
In addition to this, Telegram supports two types of channels. The first type is public, and the other one is private. Users can find public channels through search and anyone can join them. On the other hand, private channels can be joined only through invitation links.
Polls and Quizzes
A feature that are great additions to any group or channel you preside over. You are allowed to create not only anonymous but also visible votes wherein the creator can let everyone in the group see who voted for what. You can also set up quizzes with multiple answers, which is the best way to settle scores with your family and friends by allowing the members to select multiple answers.
Scheduled Messages
This feature allows you to send messages in advance, and you can specify the exact time and date you send it. With this, you can schedule your messages on your preferred date. This way, your "Saved Messages" will turn into reminders. It will then help you finish your tasks at a given time.
Silent Messages
This feature lets you send messages without sound. You are free to send messages to your friends even when they are busy or when they are in a meeting. The receiver of the message will receive a notification. However, their device will not make a sound even though their phone is in General mode.
Auto-Night Mode
If you prefer using dark themes at night, you should enable auto-night mode. This feature helps in a way that when you turn it on, the app won't blind you at night. You have three options to choose from. There's the System Default on Android or System on iOS, which matches the theme to the mode of your operating system. You can choose Scheduled, wherein the app will automatically switch to dark mode at your scheduled time.
Also, you can choose Adaptive if you are using an Android device, or Automatic if you are using an iOS device. In this option, the auto-night mode will automatically switch based on the ambient lighting conditions. However, you can still define the sensitivity using the slider.
Searching for Friends by Username
Telegram Messenger lets you register a unique username that people can search so that they can message you or add you to groups even if they do not know your phone number. This is great if you want to hide your contact details. For your security, you can disable uninvited messages in the app's settings. If you don't want to set a username, you don't need to do so.
Chat Lock
As part of focusing on users' privacy, this feature allows you to lock your chats. Doing this, you can protect your personal chats when anyone else borrows your device. No one can see your private conversations, for you can hide them using a passcode.
Sharing Live Locations
This feature allows you to share your live location with your contacts for your selected time limit. The time limit can be 15 minutes, one hour, or eight hours. Sharing your location is very useful for others to know your exact location, see your progress on your destination, and even watch out for your safety.
Slow Chat Mode
You can use this feature if you find it hard to manage your group due to a large volume of messages. This helps in making the conversations more orderly since it limits the frequency of messages that everyone sent. With that, it can effectively improve the quality of group chat because it will increase the value of each member and individual messages. You can choose the time interval when the members will have a restriction to send a message. A timer will be shown for the countdown of the next message.
Adding People and Groups Based on Location
This feature allows you to discover users and groups near you, and you can add them without sharing your mobile number. Also, with this feature, you can make location-based groups wherein the users within your location can view the created group on their device, and so they can join. Moreover, this will help you to find several groups with members of the same interest.
Secret Chat
This feature lets you keep the sensitive content of your chats to yourself and protects it from being intercepted by a hacker. Also, it allows you to secretly chat with someone, and everything that is transmitted is encrypted. This is to make sure that the intended recipient is the only one who can read the message. Moreover, when using the secret chat, you and the other party can't forward the messages that you received. Also, screenshots and screen recordings are not allowed, and the chats are automatically deleted after being received and read.
In addition to this, the secret chats can only be accessed on the device where they originated. With that, if you used your smartphone for secret chats, you can only access the chats on that particular smartphone.
Self-Destruct Messages on Secret Chats
While you are after your security, you can program a self-destruct timer automatically from your chosen devices. This way all the media, files, photos, and videos that you sent will disappear.
Unlimited Online Storage
This feature lets you save all your media, messages, photos, and videos on Telegram Cloud. You will not have a problem downloading files, the same with logging in and out on any devices several times. You will not use any data, and you don't have to worry about backup and restore.
High-Quality Stickers and Emoticons
This is another amusing feature of Telegram. There are a lot of available stickers that you can use to express yourself better. These high-quality animated stickers and emoticons are bigger and more detailed thus, they become a better way of expressing your mood.
Uncompressed Media
Sending uncompressed media in other messaging apps is a bit troublesome. This is because you need to convert or change the media extensions into another format like EXE of PDF. On Telegram, you can always send uncompressed video and images on the fly. This makes sharing different types of media easier for Telegram users.
Multi-Platform Support
Users can access Telegram on multiple devices simultaneously. Not only is it available on Android and iOS devices, but it is also accessible on Windows phones, Windows PC, Mac OS, and Linux OS. Also, there's a web-based version. Through this multi-platform availability, users can always connect to their loved ones using any platform. More importantly, you can download and use it for free.
Custom Folders
The Custom Folders feature lets you organize your personal chats, channels, contacts, and groups. You can personalize your folders in any way that you prefer with some additional features. With that, you won't have a hard time archiving all your conversations.
How to Get Telegram Messenger for Android and iOS?
You can get the Telegram app by downloading it from Play Store for Android devices and App Store for iOS devices. To download and install this app, follow these steps:
Launch Play Store or App Store on your smartphone.
Type Telegram in the search field.
When it appears on the drop-down list, tap on it.
After that, tap "Install" to start downloading the Telegram Messenger application.
Wait for the app to be installed.
How to Create a Telegram Account?
After downloading and installing the app, tap on "Open."
Register as a Telegram user by entering your mobile number. After that, tap on the arrow.
There will be a pop-up message. Tap "OK."
Accept permissions.
You will receive an SMS with a verification code on the number that you entered to register.
Enter the verification code in the app and then continue.
After the verification of your number, you need to set up a Telegram profile.
Type your first and last name.
Add a profile picture.
How to Use Telegram and Its Features?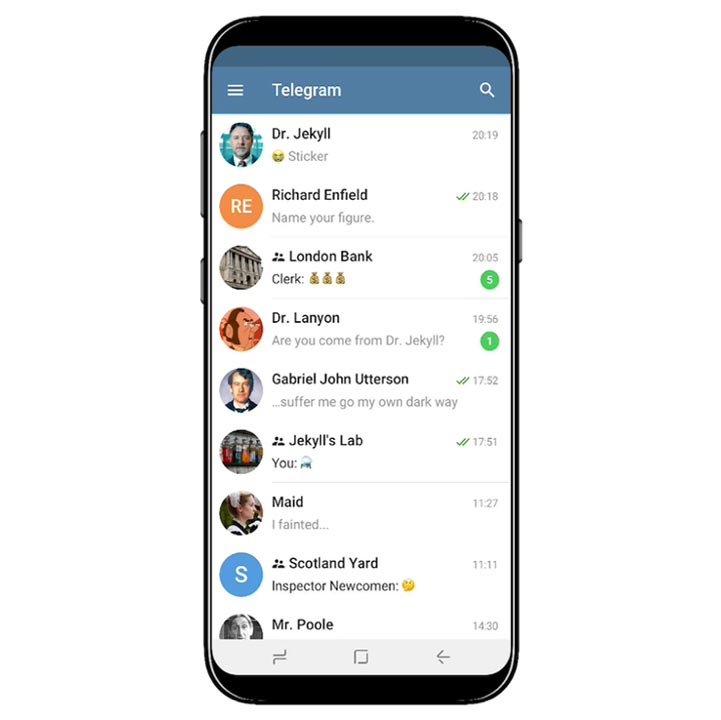 Finding Contacts
After you create your account and grant permission to Telegram to access your contacts, it can automatically search your contacts for friends who are using Telegram.
Tap the "Contacts" tab that you will find at the bottom of the screen. After that, Telegram will show a list of your friends who are using Telegram followed by the contacts who are not using it.
Adding People Based on Your Location
To do this, swipe right on the homepage.
After that, go to your "Contacts" and then tap on the "Find People Nearby" option. You will then see a list of people near you, and the groups are categorized by distance.
Starting a Chat
Start the conversation with your friend by selecting one who has a Telegram account.
You can share a photo, video, document, web image, contact, or even your current location. To do so, click on the paperclip icon next to the chat field. Moreover, you will see options where you can take a photo or video to send.
Starting a Secret Chat
Start a secret chat by clicking on the "Contacts" tab.
Tap on "New Secret Chat" and select the friend with whom you start one.
All your messages in this window are encrypted and kept private. You can securely erase your secret chats by setting a self-destruct timer. The secret chat will be automatically deleted at your specified time.
You can send texts, videos, photos, and documents in "Secret Chat" just like in a regular chat.
Setting Chat Background
Go to the "Settings" that you will find at the bottom right of the app.
Choose an image that you want for your chat backgrounds. You can also choose from Telegram's library of images. You also have an option to choose from your photo library to use as a background.
Editing Sent Messages
Select the message.
Tap on the "Edit" icon. This is the one with a pen symbol at the top.
With that, you can easily edit the message. However, your message will be labeled "Edited" after the changes you made. Also, the messages can only be edited up to 48 hours upon sending them.
In case of messages posted in your "Saved Messages," you can edit them anytime.
Sending Silent Messages
To use this feature, first, you need to type your message.
After that, tap and hold the "Send" button and then choose "Send without sound."
Starting Keep-Alive Service
To activate this service, go to "Settings" and then tap "Notifications and Sounds."
After that, swipe down until you see the "Other" section.
There is also a "Repeat Notifications" option; use that to never miss important messages.
Starting Polls
To start a poll, choose the "Poll" option that you can find in the "Attachment" menu.
You can then add questions and answers as well as set poll settings.
Enabling Auto-Night Mode
To enable this, go to "Settings" and then tap "Chat Settings" for Android devices or "Appearance" for iOS devices.
Tap on "Themes" and select "Auto-Night Mode."
You can choose among "System Default" for Android or "System" for iOS, "Adaptive" for Android or "Automatic" for iOS, and "Scheduled" depending on your preference.
Enabling Slow Mode
To enable this, tap the group name and then tap the "Pen" icon for Android or "Edit" for iOS.
After that, tap the "Permissions" menu item.
When you see the "Slow Mode" slider at the bottom, move it to the time frame that you prefer for each member to wait.
Self-Destructing Messages on Secret Chats
To set the timer, swipe right on the homepage.
Tap on "New Secret Chat" and add a person's name.
Tap on the "Stopwatch" icon and then set "Self-Destruct Timer" to your preferred time limit.
Editing Photo and Video Before Sending
Click on the "Attach File" option and select the photo or video you wish to send from your gallery.
You can also take a new photo or video on your smartphone camera.
You can edit the photo or video in any way that you want, including cropping, color adjustment, exposure, and many others.
Terminating Active Sessions
To do this, go to "Settings" at the bottom right corner.
Choose "Privacy and Security" then tap on "Active Sessions."
You will see all the active sessions with your device info. You have the option to terminate a session or terminate all sessions.
Creating a Channel
To do this, swipe right on the homepage.
Open the list of chats and tap the "Menu" icon.
Choose the "New Channel" option. You have to provide your channel name and its description, then tap on "Create."
Also, you need to select the channel type if you want it to be a public or private channel.
After that, you have to create a distinctive URL. If your URL is unavailable, you have to create another one.
Then you can start at max 200 people from your contacts list and add them to your channel. Select their names then tap "Invite."
Adding High-Quality Animated Stickers
To use this feature, first select your photo or video.
Tap on the "Brush" icon that you will find at the bottom.
Tap on the sticker icon, and then add high-quality animated stickers to your photo or video.
Locking Your Conversations
To lock your conversations, go to "Settings."
Select the "Privacy and Security" option and then tap the "Passcode Lock" feature.
You will then be required to create and verify a four-digit passcode.
After that, you'll have the option to use the "Unlock the app with fingerprint" and "Auto-lock" features after some time.
How Safe Is Telegram Messenger?
Telegram prioritizes its user's security. It supports E2E encryption for Secret Chats and voice calls. When using Secret Chats, conversations will not be stored in their servers, and you can set a time limit until they get deleted. Also, only the two people involved can access the chats. On the other hand, voice calls are automatically encrypted, which make them as secure as MTProto permits.
Also, it provides MTProto security wherein messages that arrive in Telegram are encrypted. Regarding privacy, upon registration, it requires its users to provide their phone numbers to avoid spammers and bots from mass-registering. Moreover, it uploads all the Contacts database to its servers, helping Telegram build a massive social network map of all its users and learn how they know each other.
In addition to this, in the past, Telegram announced a contest to crack the app's encryption offering a large sum of money but until now, nobody was able to claim it. This just means that nobody was able to crack down Telegram Messenger's encryption.
Pros and Cons of Using Telegram Messenger
Pros
Secret chats
Open-source
No advertising or additional premium content
No subscription fees
Self-destruction mode
Global message deletion
Large file size limit
Customizations
Replies, mentions, and hashtags
MTProto protocol
Passcode and fingerprint authentication
Lightweight animated stickers
Attractive design.
Available on multiple platforms.
End-to-end encrypted private messaging.
Powerful group tools.
Photo editing tools.
Sync chats across multiple devices
Audio calls
Discussion threads
File sharing
Real-time chat
Cloud support and cache management options
Cons
No video calling
No offline status functionality
Notifies your contacts when you join
Lacks stories and statuses feature
Less moderated
Requires a phone number upon registration
E2E encryption limited to Secret Chats only
Logs IP address and other user data
Encryption protocol not open-source
No live voice or video options
Can't select multiple files
Telegram Messenger vs. Competitors
Signal Private Messenger
Signal Private Messenger is geared towards privacy and security. With that, anything that you send and receive is encrypted that it will be hard for anyone to intercept them unless they are the intended recipient. Moreover, it does not store any user data, so no one can request it, and it can't leak. It is free to use and available on Android, iOS, and chrome. Also, it includes basic messaging tools, which include emoji support, read receipts, group chats, voice calls, and video calls.
WhatsApp
This is one of the most popular when talking about messaging apps. It is easy to use and uses the powerful encryption protocol developed for signal and features Perfect Forward Secrecy (PFS). With this, if someone accessed the key on your secret conversation, the only message that they will see is the last message that you sent. Moreover, this app features voice and video calls, delivery and read notification, and has a greater user base. Also, it introduces end-to-end encryption for all chats.
Viber
This is a free, simple, fast, and secure messaging and calling app. It offers different calling and messaging features, which give you endless options in expressing yourself. Moreover, it works both on smartphones and computers, so you can connect with people anywhere in the world. It features voice and video calls, group chats, group calls, stickers and GIFs, and picture sharing. With its free picture and video messaging, you can like and reply to group chats. Also, you can instantly start a group video or voice call. You can even create your own stickers and GIFs.
LINE
This is the fastest-growing mobile messenger app in the world. Line is compatible with mobile devices and personal computers. It offers free voice and video calls, exciting stickers to enhance the user experience, photo and video sharing, voice messages, and video conferencing. Moreover, it features Keep, Live, face filters and effects, and face play games. In addition to this, it is known for pioneering several trends in messaging.
Keep Your Messages Protected With Telegram Messenger
It is always fun to communicate with different people. However, most people prefer to be secured and their information not to leak out. It is not always that we can protect ourselves so we need to be vigilant. If we want to protect our privacy, we have to look after the things that can help us protect it. This also applies to the messaging app that we use to communicate with others.
Telegram Messenger helps us to protect our messages with its Secret Chat feature. However, it is not always that we can count on the security features that it offers. We can always choose the best messaging apps to satisfy us. Nevertheless, being responsible is the key for us not to be worried about our conversation with others. We should think that we should always be careful in every message that we send.