Different devices are using a different operating system. There are Android, iOS, Harmony OS, Sailfish OS, Tizen Open-Source OS, KaiOS, Plasma OS, PostmarketOS, PureOS,  LineageOS, and Ubuntu. We are very much familiar with Android and iOS. But, many people are not familiar with the other operating system. Maybe only a few had ever heard or used the other listed operating system.
In this article, we will focus on discussing one of the not-so well-used operating system, the Ubuntu Touch.
History Of Ubuntu Touch
Canonical Ltd. was the original developer of Ubuntu Touch. The unveiling of the Ubuntu platform for phones happened on January 2, 2013, and the release of the Ubuntu Touch Developer Preview took place on February 21, 2013. However, on April 5, 2017, Mark Shuttleworth announced the termination of support of Canonical Ltd. to this project. The reason behind this was the lack of market interest. UBports then adopted it as a community project. Primarily, it was for touchscreen mobile devices such as smartphones and tablet computers. However, the original intention was to bring Ubuntu Touch to laptops, desktops, IoT devices, TVs, and smartwatches. This was to provide a complete unified user experience.
The programming source code was transferred to the UBports Foundation. Its mission is to support the development of Ubuntu touch. Moreover, it wants to promote the use of the operating system worldwide.
What Is Ubuntu Touch?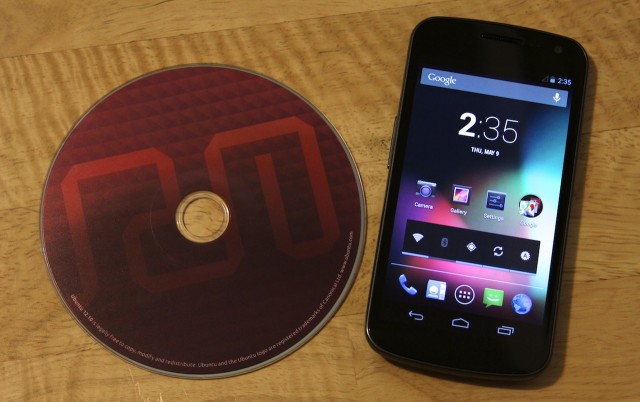 Ubuntu Touch is a version of the Ubuntu operating system intended for mobile devices. Moreover, it is a Linux-based with a QML-based user interface.  It is a unique operating system developed and maintained by UBports Community.
The mobile operating system is built-on the computer and IOT OS of the company. It provides us with a secure and stable base system. Furthermore, it is an open-sourced and community based mobile operating system. You can have full control over your device and personal data. Also, you can change it as you please, and wouldn't have to jailbreak and fiddle around to get at a Linux root shell and install a system-wide adblocker. Additionally, it aims to deliver a different approach to user experience. It focuses on the so-called "Scopes" rather than the traditional apps. The idea behind "Scopes" was to give simplifications of content delivery to users. Millions of personal computers, servers, IoT devices, and even parts of the international space station used them.
It was believed that Canonical Ltd. had killed Ubuntu Touch. What happened was it was given the freedom that made it stronger than it was before. In 2019, it seemed that other sponsors took the opportunity to continue this project. Even described as a community of passionate volunteers, it seems that corporate backing is present.
Devices That Support Ubuntu Touch
Fairphone 2
Ubuntu Touch on the Fairphone 2 is a perfect combination of a secure and open-source OS on a sustainable and ethical device. Fairphone 2 is not only a modular device but also an ethical one. It is because it guarantees the users' privacy with Ubuntu Touch.
Nexus 5
Installing Ubuntu Touch on your Nexus 5 enables you to have control over your private data on your smartphone. Also, it can make your Nexus 5 secure. This is because everything unsafe is blocked. Additionally, this mobile OS is free of viruses and other malware that can extract your private data.
It is the most available from all core devices. Moreover, it is the best device to experience the comfort of brilliant convergence.
Check out the LG Nexus 5 today and install Ubuntu Touch to experience maximum privacy.
BQ Aquaris E4.5 Ubuntu Edition
It is the first smartphone that is commercially available and carries the Ubuntu Touch OS. It is a budget dual-SIM phone that is completely unlocked. With that, consumers can use it with the network they are using. Moreover, it is a smartphone that puts content and services at your fingertips.
BQ Aquaris M10 Ubuntu Edition
It is the world's first tablet with the Ubuntu Touch operating system. Also, it is the first device that offers desktop-mobile convergence. It has both tablet and desktop modes. To support its desktop-like function, you need to connect a keyboard and a mouse.
Meizu MX4 Ubuntu Edition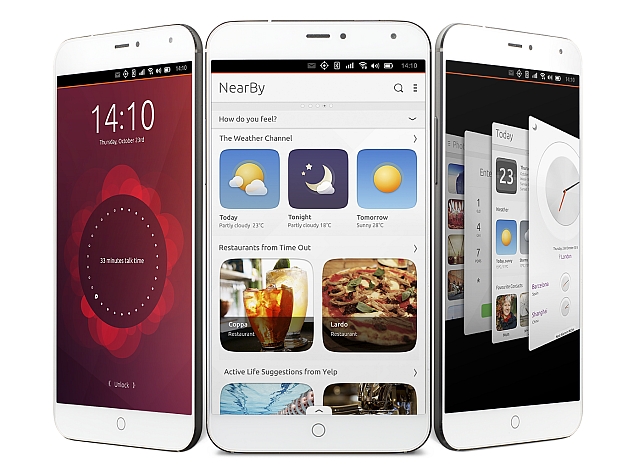 Designed and produced by the Chinese manufacturer Meizu, this smartphone runs on Ubuntu Touch. Previously, it was a phablet model of the MX series. It is Meizu's first Ubuntu Touch device that was made available commercially. Moreover, it is the second Ubuntu Touch smartphone to reach the market.
Other Devices That Support Ubuntu Touch
Samsung Galaxy Nexus
Google (LG) Nexus 4
Google (ASUS) Nexus 7
Google (Samsung) Nexus 10
Aionol Novo7 Venus
Ubuntu Touch: Features
To be a viable alternative to Android and iOS, Ubuntu Touch offers a unique mobile experience.
A Simple And Beautiful OS
Ubuntu Touch has all the essential features and elements with impressive attention to detail. It provides the best mobile experience by making all the simple features easy to navigate and always at the tip of your fingertips.
Innovative And Multi-tasking
It is easy to access all the features of your devices like the apps, tools, and settings. There are no on-screen buttons. It would help if you swiped from the edges of the screen. Also, there's a window mode which helps you to see two applications at the same time. Moreover, you can connect a mouse and a keyboard to an external monitor.
It Is Free And Gives You Freedom
It is free-of-charge and also ad-free. Additionally, it is released under free software licenses. It respects your freedom to use, study, modify, and share the software.
Open Source
Ubuntu Touch is an open-source operating system. It shares its source code. There's room for improvement and better accomplishments. It's up to you to decide when to upgrade your OS.
Lock screen
The application will prompt the user to unlock if there's a need to do so.
Ubuntu Touch Vs. Android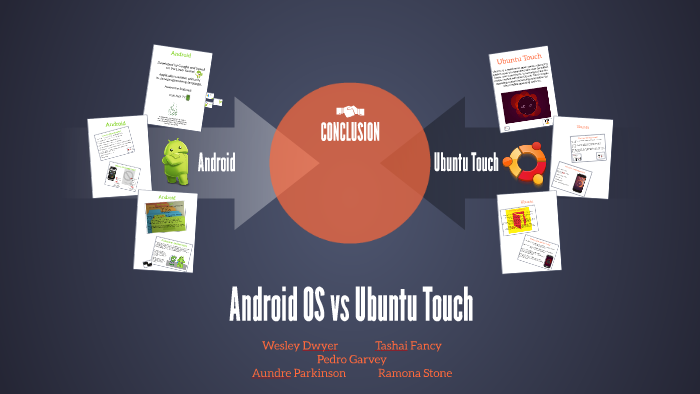 Ubuntu Touch and Android are both Linux-based operating system. However, there are still differences between them. In some aspects, Ubuntu Touch is better than Android and vice versa.
Ubuntu uses less memory to run apps compared to Android.
Android requires JVM (Java VirtualMachine) to run the applications while Ubuntu doesn't require it.
Ubuntu considers everything as file and not vulnerable to threats. Android, on the other hand, lacks organization which makes it more prone to threats.
Ubuntu uses Qt which is suitable for developing high-performance and user-friendly applications efficiently. Android uses a Java-based platform that wants to achieve comparable programmer efficiency only.
Ubuntu touch has a unique user interface as compared to Android.
You can easily customize Android's interface by using downloadable apps as compared to Ubuntu.
Android has a full-featured smartphone keyboard, and you can install many optional ones. Ubuntu, on the other hand, only has a simple keyboard and doesn't have auto-correct.
Ubuntu Touch Vs. iOS
iOS has a default full disc encryption while in Ubuntu Touch, it is hard to activate encryption.
There's no invasion of privacy in Ubuntu Touch, while iOS has a remote keylogger.
An offline setup of the operating system is not possible on iOS.
Ubuntu Touch: Pros and Cons
Ubuntu Touch Pros & Cons
Pros
Provides mobile security from Malware
Has "Scopes" that provide convenience on searching
When you connect a keyboard, mouse, and monitor to your Ubuntu phone, you can turn it into a PC
Uses the same drivers as Android. Moreover, it runs smoothly with entry-level smartphones
Cons
Lacks apps
Difficult to navigate
Lack of hardware.
Lacks support.
Lacks the presence of the internet.
How To Install Ubuntu Desktop?
You have to get prepared. Be sure that you have enough storage space. You should have at least 25 GB of free storage space
Be sure that you have access to a DVD drive or USB that contains the version of the Ubuntu that you want to install.
Prepare your PC to boot.
Prepare to install Ubuntu. You will be asked to select your preferred keyboard layout.
Start installation. Click "Install Now" and then "Continue."
Select location. However, your location will be automatically selected if you have an internet connection.
Enter your login details. Enter your name, and be sure to have a strong password.
Wait for the background installation. It will only take a few minutes.
After completing the installation, click "Restart Now."
Remove the DVD or the USB.
Vitality At Its Best
It is incredible how the two mobile platforms, Android and iOs, dominate this high-tech world.  Most people are satisfied with the service that these two platforms provide. However, other platforms want to offer something different. One of these is the Ubuntu Touch.
This new platform promises to deliver a different user experience. People are used to using the popular Android and iOS, but Ubuntu is catching on quickly. Ubuntu has features that are not present to both Android and iOS.
Ubuntu touch is overwhelmed with its beautiful features. Its simple controls, designs that are easy to understand, the idea of "convergence" of mobile and desktop, and respect to privacy are so much to have. It has its "Best Features" that can offer vitality to the consumers.
All in all, Ubuntu has something to give. However, the choice for an operating system still depends on people's preferences and which will fulfill their needs.