Your WiFi connection will not always be stable and consistent. A lot of smartphone users are relying on a WiFi connection to make the most out of their devices. We won't be able to connect on Facebook, Instagram, Twitter, Gmail, and many others if we are not connected to the internet. Also, frequent WiFi connectivity interruption sometimes brings troubles or issues for most of the users and network administrators.
With that, we have to be connected in an efficient, reliable, and secured internet signal or connection to avoid problems to arise. We, users, tend to look for something that will offer an optimal means of resolving WiFi connection issues. We look for something that will help us achieve a connection with the best quality.
It's a good thing that there are a lot of downloadable WiFi analyzer apps for mobile phones. They can help us optimize our WiFi network connection, maintains its quality, and check the signal strength, to name a few. With these, we can be sure of a more satisfying performance from our network.
In this article, we will discuss some of the best downloadable WiFi analyzer apps for mobile phones.
Best WiFi Analyzer App For Mobile Phones
A WiFi analyzer app is essential not only in the beginners in the world of the internet but also to many professionals in the Information Technology industry and a few network administrators.
WiFi Analyzer
This is one of the best and top-rated Android apps to find different WiFi networks near you. It is simple and doesn't have too many options or features to offer. It just perfectly shows the available wireless networks around you. Also, it displays a graphical representation of the wireless networks. The graph shows which channel the network runs on. Upon opening, you will see the less crowded channel or the channel which is used the least.
It is a real-time monitoring and analysis tool that helps you in monitoring different wireless network indicators. Moreover, this WiFi analyzer will help you in getting rid of a signal that duplicates with the competitors. Also, it helps you to know how to have the maximum speed, and how to deal with bugs and any other errors. WiFi Analyzer is available for free and supported by ads.
Additionally, the interface offers convenience and information. Also, from the main menu, you can see the instructions on how everything will work. Aside from that, the step-by-step optimization of different connections for the smooth distribution of traffic will be shown too.
It is compatible with Android devices.
Open Signal
This WiFi analyzer app is not only for WiFi but also for cellular monitoring. It is a powerful WiFi analyzer and helps you to know the nearest mobile tower, identify the accurate signal strength, and get the exact wireless information. Moreover, it can perform speed and latency tests, detect connection quality and have an in-depth analysis of the network.
Additionally, this WiFi analyzer app features availability stats and the history of your logs to WiFi and 3G. Also, it performs speed tests to check connectivity over time. This application includes a map of WiFi points, connectivity maps, and independent speed comparison for different operators. Moreover, it can share the results, so you can compare them to your friends. You can also save data on your SD card. It can also give you a signal alert when you don't have data or connection. Furthermore, it features video speed tests, availability stats, and coverage maps.
This app is free. Moreover, it doesn't support any ads and works with WiFi mobile broadband internet.
It is compatible with Android and iOS devices.
Wi-Fi Network Monitor
This is another powerful app for examining available WiFi networks and their settings. Its main feature is its amazing user interface. It provides several tabs to boost the experience of the user. The tabs include network tab, connection tab, channel tabs, and many others. The Network tab helps in analyzing all available WiFi networks by different technical framework. Moreover, the connection tab gives information about the connected WiFi networks. On the Channel tab, you can check the WiFi channel traffic distribution and see the hotspots signal level.
Additionally, the signal strength chart helps in finding the areas that have a weak signal. Furthermore, it helps in comparing the signal levels of the available WiFi networks. On the other hand, the speed chart gives information about sent and received data in the connected network. The scan section allows searching of devices connected to the current network. Besides, it helps in viewing the parameters.
It is only compatible with Android gadgets.
Network Signal Info
This analyzer helps users to accurately see the information about the currently used WiFi network as possible. Its highlighted features are being user-friendly and accurate signal strength indication.
Network Signal Info displays the essential data such as the name of the WiFi network (SSID), MAC address, BSSID, maximum WiFi data transfer speed, and gateway IP address. Also, it shows the external IP address, net capability, net channel, subnet mask, Gateway IP address, DHCP server address, DNS1, and DNS2 address, and many others.
This app has both the paid and free versions. The free version features the detailed mobile network information, accurate signal strength indication, detailed WiFi information, and the detailed Android system information. On the other hand, the paid version added essential features. These include widgets for mobile and WiFi network, location of the mobile cell tower, mobile signal tracker, and signal record function.
It is compatible with Android.
ScanFi
This powerful WiFi analyzer app also helps you to scan networks without a connection to an access point. It provides a wide range of high-end features in performing an effortless analysis of your connection. Also, it shows the framework of a WiFi network like the signal strength, connection speed, security protocol, access points, and many others. It allows retrieving of information about the nearby wireless networks and visualizing the wireless network activities with cool graphical representations. Also, you can see historical information about their strength, speed, and many more.
Additionally, ScanFi provides channel ratings. With that, you will know the least crowded channel for transmission. Moreover, it supports 2.4Gz and 5GHz scanning. You can also check your average download speed and know only the open access points near you. It is also possible to search for the unknown or hidden access points. Besides, it helps you to convert any compatible device as a WiFi analyzer. However, it is not a connection tool, and you can download it for free.
It is compatible with Android.
WiFi Analyzer – Home WiFi Alert
This WiFi analyzer app gives you a graphical representation of all the configured wireless networks that you have. It also offers the best network utilities. It is because it has in-built tools for tracking and securing your office and home networks. Also, it measures the signal speed and strength and draws a detailed map of devices with either wired or wireless connections. This WiFi analyzer app will benefit different levels of users from beginners up to experienced network administrators.
Additionally, it is one of the most impressive WiFi analyzer apps on the Google Play Store. It offers amazing features such as a tab for network research, tab with signal strength, scan tab of access points, tab with the scheme of access points, tab with connections, and the tab for blocking devices on the network.
The tab for network research displays IP addresses, MAC addresses, and names of suppliers, and WAP. It also shows the customizable icons and editable names for devices, and ping, port scanning, and blocking wireless network users. Tab with signal strength displays WiFi signal and connection speed, allows checking of connections, displays public IP addresses and encryption, frequency, MAC address, DHCP, and DHCP lease time. On the other hand, the tab with the scheme of access points contains the information about the channel that your router is currently using. Also, it gives information about the neighbors that use the same channel. The scan tab of access points provides all the available access points near you. Besides, the tab with connections contains the information of all your device's connections. The tab for blocking devices will help you to manage your device.
It is compatible with Android and iOS.
IP Tools – WiFi Analyzer
This is the perfect WiFi analyzer app for setting up an office and a household WiFi network. This is useful in detecting WiFi network-related issues. It helps in optimizing the wireless network even you are far from the network zone. It offers important features like router setup page, network scanner, traceroute, WiFi analyzer, Ping, and IP and Host converter. Also, it allows quick detection of any computer network problem, detection of IP address, and also helps in boosting the performance of the network. Moreover, this network offers a simple but intuitive interface. With that, you can quickly receive information on your network. Also, it helps you to find internal and external IP, SSID, BSSID, gateway, broadcast address, network mask, country, region, providers' geographical coordinates city, and other basic information.
Additionally, it is the best and most advanced WiFi analyzer app. It helps in configuring the router, conducting diagnostics, exchanging data about networks, and many others. Its interface makes it easy for you to copy information to the clipboard, save them in the text editor, and share the diagnostic results through the mail, SMS, and cloud storage to someone.
It is compatible with Android and iOS devices.
Fing – Network Tools
This WiFi analyzer app can effectively scan devices that are connected to your WiFi network. It can accurately detect the IP Address, MAC Address, device name, model, vendor, and many more. Moreover, it works well with wireless networks. It also helps in detecting intrusions, assessing security, and troubleshooting some issues.
Besides, its essential features include LAN/WiFi scanner, analysis of the network and devices, subnet scanner, and monitoring of the network. Also, it works in automatic mode. It is possible to scan networks in only one application and display detailed information on the network. This can be helpful for some system and network administrators in scanning home and work networks. Furthermore, you can schedule the network speed test and compare reports as the basis for ISP performance. You can use Fing in finding the perfect WiFi spot.
It is compatible with Android and iOS devices.
Network Analyzer
This is one of the more approachable WiFi analyzer apps. It's an advanced tool for LAN scanning, network diagnostics, and detecting problems related to WiFi networks. Also, it helps with poor signal strength, connection stability, and in setting up internet connectivity. Moreover, it helps in gathering and delivering data from any wireless network for different purposes. It also tests both upload and download speed.
This WiFi analyzer app comes with a wide range of standard net diagnostic tools. These include WiFi/LAN/port scanner, ping, traceroute, whois, DNS lookup, and many more. Moreover, it has high-performance WiFi device discovery tools, which include addresses of the LAN device, the manufacturers, and names. Besides, it shows all the wireless networks near you with additional details such as signal strength, encryption, and router manufacturer. All of these help in finding the best channel for the wireless router. Everything works flawlessly with both IPv4 and IPv6. Furthermore, this app will update continuously the present cell and WiFi connection. It can also scan the devices that are connected to your hotspot.
It is compatible with Android and iOS.
WiFi Data – Signal Analyzer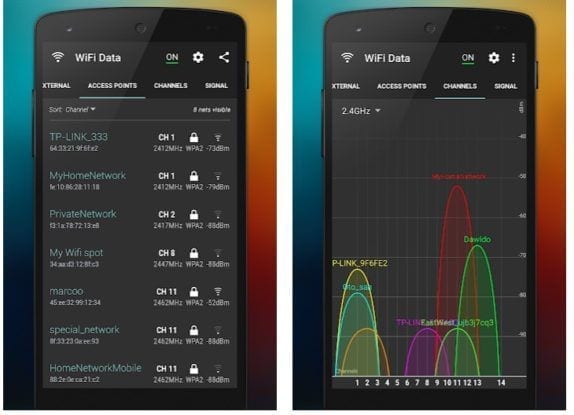 This is an essential WiFi analyzer app for all wireless network users. It features a user-friendly interface, so it's very easy to use. This app helps in the presentation of all data from the WiFi device. Moreover, it helps in analyzing the wireless network, diagnosing connection status and signal strength, and scanning WiFi networks. Also, this app supports sharing tabs with friends, copying connection info to the clipboard, and turning WiFi on and off.
Additionally, this app includes four tabs. These are the connection tab, access point's list tab, channels tab, and signal tab. The connection tab contains the info about the current connection, net, and access points that you are connected to. Also, it has all the important information like SSID, BSSID, MAC, your IP address, netmask, and net gateway with DNS addresses. The access point's list tab contains the list of all the visible network access points with detailed info to your device. On the other hand, the channel tab shows the graph presentation of available networks. However, it depends on the signal strength and channel where the network is working. The signal tab shows the graph of the WiFi signal strength.
It is compatible with Android devices.
NetSpot
This is the perfect pick for a WiFi analyzer app that provides a quick analysis of all WiFi network coverage near you. It has a unique interface that is very easy to operate. This WiFi analyzer app carefully collects and presents every detail about the neighboring wireless networks into interactive tables. Also, it can help you see the changes in the data chart in real-time and compare the signal strength of the network and WiFi channel. Its simplicity and affordability make this app an all-in-one WiFi analyzer and scanner.
Additionally, this app features live data, supports 2.4GHz and 5GHz channel bands, and shows details on all APs. These AP details include the network name, MAC address, band, channel, signal level, and security. Furthermore, it is useful in resolving overlap conflict on a WiFi channel, finding leakage on signals, and monitoring WiFi. Besides, it also helps in troubleshooting and enhancing the coverage, capacity, performance, signal level, and interference on your network.
It is compatible with Android.
WiFi Analyzer: Pros & Cons
Pros
Monitoring and managing wireless networks
Identifying times when the wireless network is strained
Updates on the development of traffic both in your network and wireless network
Checking signal strength of WiFi networks
Helps to detect all network devices and their IP addresses
Can diagnose connectivity issues
Analyze different types of wired or wireless network
Customizable web-based network monitoring
Availability of free trial
Identifying the best channel for you
Finding the location of the best router
Checking WiFi speed
Accelerating WiFi troubleshooting
Does a comprehensive analysis of the WiFi network
Helps in maintaining the quality of your connection
Gathers information about access points and channels on the network
Collects data and helps in identifying problems
Manages key performance metrics across the wireless network
Cons
Requires in-app purchases to enjoy additional features
Some are riddled with bugs
Optimize Your Network With WiFi Analyzer Apps
WiFi analyzer apps are useful in WiFi configurations and troubleshooting. Using a WiFi analyzer app helps in protecting against threats, ensuring connectivity, and avoiding service disruptions. For people with businesses, and ineffective WiFi analyzer will result in risky and costly downtime and inefficiencies in resources. Moreover, for home use, family members might not be able to enjoy their WiFi connection. It is advisable to use WiFi analyzers to improve the user experience, speed up operation, and eliminate the hassles that we encounter while connected to WiFi.
Since there are a lot of WiFi analyzers to choose from, there are some needed considerations. In choosing the best WiFi analyzer, you must consider if it is compatible with your operating system. Also, check the interface. It should be easy to use and customizable. Read some reviews concerning their performance and efficiency. Choose the one that can go with the innovation, can keep with the changing industry, and the one that can offer maximum security.  WiFi analyzers are reliable apps. It's better to have one for yourself.
If you're looking to improve your connection speed, you might want to read about the 20 best ways to increase internet speed.