People are all aware of the existence of Android, iOS, and Windows. Undoubtedly, they are the most popular operating systems in this innovative world of smart technology. However, they are a few more that exist.
The phones' operating system provides the basic functionality for your smartphone. This is the reason why you need to know the OS of the phone that you are going to buy. When you chose the best smartphone with the best OS for you, you can enjoy everything on your phone. Moreover, you'll be able to navigate all your phones' functions and have the best from them.
If you want to buy a smartphone, it is wise to know what operating system it offers. Since there are a lot of these operating systems, you'll be able to choose what you need. You just have to read for some reviews to know what features will help you a lot. Also, to know which gadgets are currently using them.
Tizen is one of the operating systems that we may not be aware that we are using in our homes.
In this article, we will discuss more on this operating system, its development, its features, and what we will encounter with it.
What Is Tizen OS?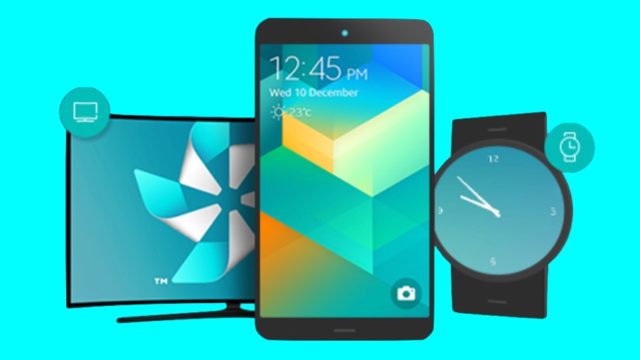 Tizen OS is a Linux-based operating system backed by the Linux Foundation. Nokia and Intel developed Tizen OS, but the Finnish phone maker abandoned it. However, when it was passed to Samsung Electronics, it used it primarily. Moreover, it is an open-source and flexible operating system developed by a community of developers. Since it is open-source, it is open to all members who want to use it. Also, developers are free to use it, build on it, and develop use cases for it.
Additionally, it is a multi-faceted operating system. It is a core OS that comes in multiple profiles depending on what device it is being used and to serve different requirements of the industry.
History Of Tizen OS
Tizen OS has been around for some time. At first, it was thought of as an HTML5-based platform for mobile devices. Tizen offers the ability of application developers to extend their system to new smart devices that run on Tizen. These include wearables, TVs, DVRs, cars, appliances, and gaming consoles.
Tizen is a strong name. It matches the extent and potential of this new open-source operating system. Tizen stands for Tizengram. It is the combination of the words "tie" for connectivity, "rise" for activity, and "Zen" for its meditative qualities. The name represents an operating system that will not only work for you but also provides easy access to your mobile.
This operating system has been functional since 2012. It provides application development tools based on JQuery Mobile, jQuery, and JavaScript libraries. The combined inputs, suggestions, and participation of the public helped in making the open governance model of Tizen.
Tizen Operating System is similar to Android. Moreover, the reason for its development is to compete with Android and iOS.  Since it is open-source, its applications can still be compatible with other operating systems. However, when compared to Android, Tizen provides faster startup and is lightweight.
Development Of Tizen OS
Tizen Tablet
Systena shipped this tablet in October 2013. It is the first device powered by Samsung's Tizen operating system. It did not aim to hit shops but for the developers to build and perfect the apps for the Tizen platform. However, this tablet offers a wide range of features. It provides powerful specs that almost match the most powerful Android tablets available on the market today.
Gear 2 Smartwatch
Samsung released it in 2014, and it used the Tizen operating system as Android competitor. It provides an improved design, better notifications, a heart rate monitor, and a basic fitness tracker. It comes in a good selection of different materials. Moreover, it is water-resistant.
Qt For Tizen
It is the Community port of Qt for Tizen, and it was launched in May 2013. It contains an optimized, cross-platform application, and user interfaces development framework. This community offered native Tizen feel and look for smartphones and worked with Tizen Emulator.
Samsung Connect Auto
Samsung announced it on February 21, 2016. It plugs directly into the OBD II port underneath the car's steering wheel. It provides Wi-fi connection to keep passengers online while traveling. Also, it uses real-time alerts. This helps users to improve their driving behavior, including increased fuel efficiency.
Samsung Connect Auto is compatible with Tizen OS and is secured by Samsung's Knox's solution.
Tizen OS Supported And Compatible Devices
Tizen provides innovative operating applications and systems. This way, consumers will be able to flawlessly access to a variety of devices.
Smartphones
Samsung Z1 is the first smartphone that Samsung Electronics created to use the Tizen operating system. The design of its UI was primarily for the consumers who wanted to upgrade from feature phones to smartphones.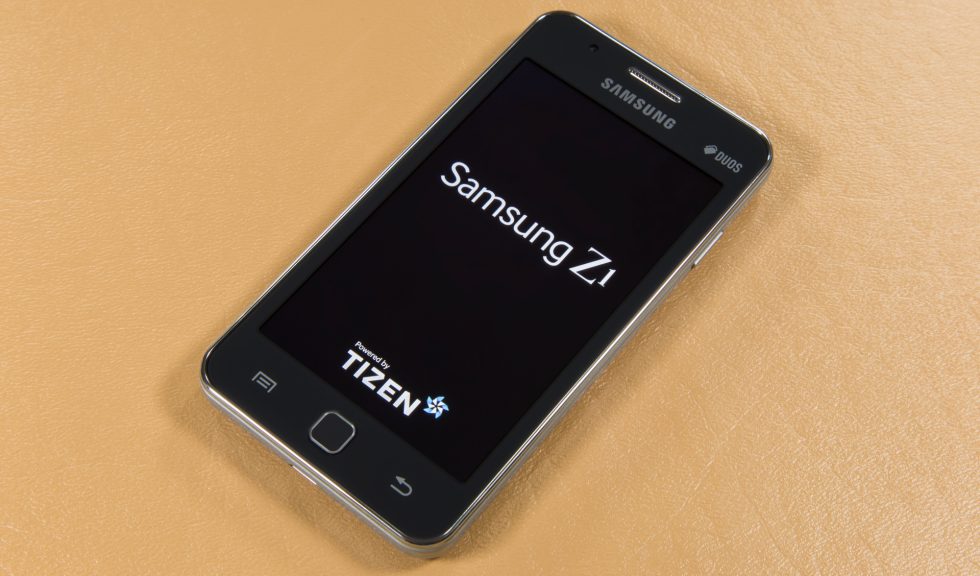 Samsung Z3 is the second smartphone that Samsung Electronics created to use the Tizen operating system. Its user interface looks similar to that of the Samsung Z1.
Samsung Z2 is the first 4G smartphone powered by Tizen and pre-loaded with Jio services. Its UI is simple and easy to use and offers faster and smoother device performance. It features a unique "Ultra Power Saving Mode," which makes the device operational even at minimal battery levels.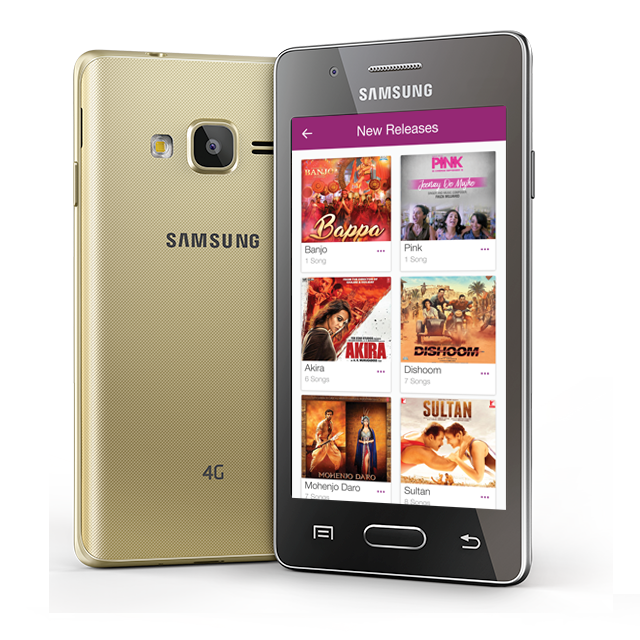 Samsung Z4 is the fourth smartphone that Samsung Electronics created to use Tizen 3.0, the new version of the Tizen operating system.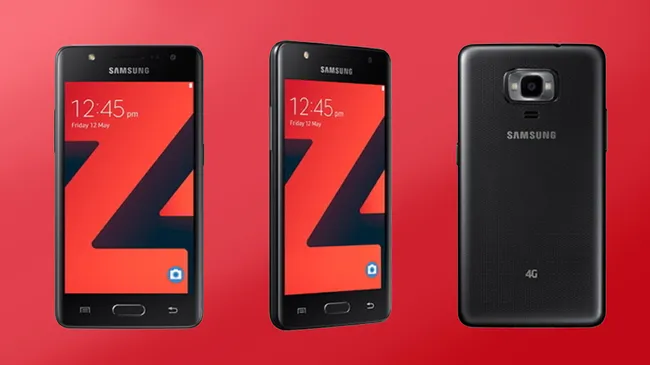 Smart Televisions
Samsung's Smart TV platform is one of the most comprehensive in the market. Its features have been built on the Tizen operating system. The key feature of this Smart TV is the Smart Hub onscreen interface.
Smart Cameras
The NX300M smart camera is the first consumer product based on the Tizen operating system that Samsung Electronics created. Also. Samsung has the NX1 and NX300. Check out the NX300M on Amazon today and own a camera for the future.
Smart Watches
Samsung Galaxy Watch
Samsung Galaxy Watch Active
Samsung Gear Sport
Samsung Galaxy Gear
Samsung Gear S
Samsung Gear S2
Samsung Gear S3
Samsung Gear 2
Samsung Gear Fit 2
Samsung Gear Fit 2 Pro
Features Of Tizen OS
A lot of companies are extending their support to the Tizen operating system. Today, it seems that this OS is much more appealing to challenge Google Android. With this, let's take a look at some of the many features that Tizen OS offers.
It is open-source. With that, the software and mobile app developers can make changes to the UI interface if they want to make it unique.
Tizen is an HTML5-based OS. It is great for content creators since it allows shorter development cycles and lower cost of creating mobile apps. Moreover, the applications developed with this OS are compatible and can be used with Android and iOS with little or no charges.
It has a TouchWiz layer on it to make user-friendly.
Tizen OS offers a consistent user experience among different devices like smart TVs, PCs, smart cameras, smartwatches, printers, smartphones, tablets, and Smart Home appliances. It means that it is not optimized for smartphones only.
Tizen has the support of Intel. Intel will support Samsung for the continuous upgrading of the Tizen OS platform.
Tizen supports basic touch gestures.
This operating system offers a multi-window display option. The users can work either in a full window or mini window.
Samsung provides easily available Tizen apps.
Tizen  OS: Pros
Supports multi-tasking and touch gestures
Quick access to settings
It is lightweight.
Tizen offers improved scrolling.
It offers a 3D window effect as its support for apps and games that need advanced 3D graphics.
Its box icons are manageable. It can be resized to show more or less information.
Customizable user interface
Less battery consuming
Top automobile brands support it.
Its design is almost similar to Android.
Tizen OS: Cons
Fewer applications accessibility
Not maximized performance of the device
Tizen OS Vs. Wear OS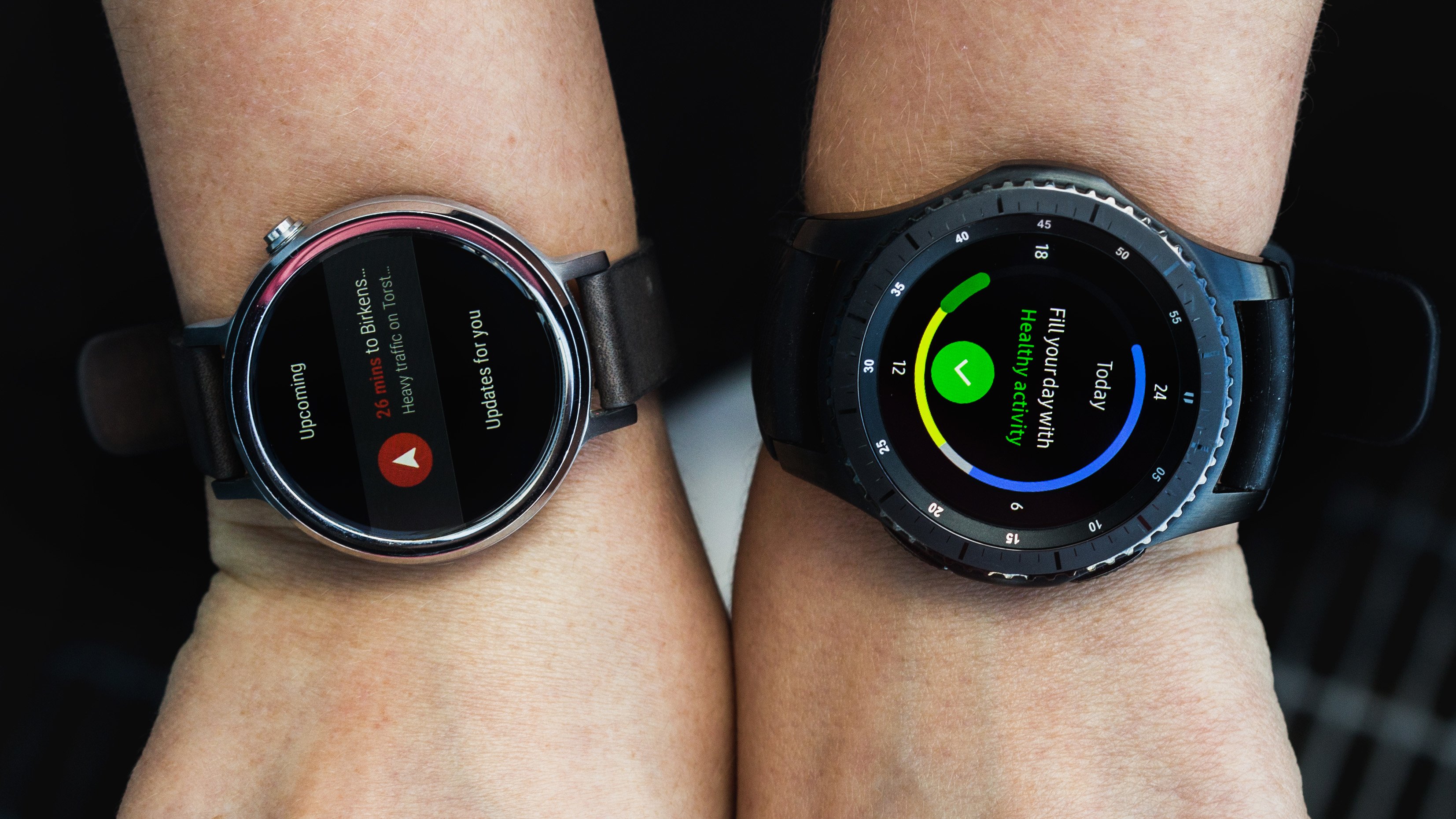 Smartwatches
When choosing a good smartwatch, we look after its features, apps, and hardware. However, both Tizen OS and Wear OS are doing their best to offer satisfying wearable accessories.
There are a lot of manufacturers that produce watches with Wear OS. These manufacturers include Motorola, Fossil Group, Mobvoi, and many others. On the other hand, Samsung is the only manufacturer to produce smartwatches with Tizen OS. Samsung produces different smartwatch styles. However, it can't match the variety that you will get with Wear OS since many manufacturers support it.  Fossil Group alone can provide different varieties of smartwatches for Wear OS.
Samsung's smartwatches are well-designed, while Wear OS offers a more aesthetic option. Moreover, Tizen OS has a lesser selection of apps when compared to Wear OS. However, its smartwatches have a Gear app. This makes a connection between the wearable and your smartphone. Also, it builds a bridge between Tizen apps and the Android OS.
Compatible Phones
It is an advantage for Wear OS that it is compatible not only to Android phones running Jelly Bean 4.3 or later but also for some iPhones that are running iOS 8.2 or later. However, it changed with the introduction of Wear 2.0.
On the other hand, Tizen OS has initially been set-up for Samsung phones. However, it changed and adds support to Android handsets. Also, it is compatible with iPhone 5 and iPhones newer handsets.
It's an advantage to both Tizen OS and Wear OS that they are both compatible with multiple platforms.
Interface
Full-screen tiles were added to the platform when Wear OS was updated. With that, Wear OS and Tizen OS became more similar with regards to design perspective.
As for the Wear OS, the front of the watch is its home screen. You can access your notifications by swiping up. However, swiping down will open the quick settings. Also, pressing the center side button gives access to the list of applications. For full-screen widgets, you have to swipe to the side. In doing so, you will have access to information from installed apps. Tizen OS, on the other hand, operates in the same manner. However, the notifications are accessible to the left of the watch, with the tiles on the right. Accessing the list of the apps and quick settings are similar to the Wear OS.
Features
About the features, Wear OS has the Android Pay, while Tizen OS has the Samsung Pay. Both offer the ability to make purchases right from your wrist. However, there's an advantage for Samsung. It's with the Gear S3, which supports Magnetic Secure Transmission. With that, it can be used with card strip readers. This way, it is more compatible than Android Pay.
In terms of the UI, Tizen OS is better than Wear OS.  Tizen's UI has a simple setup and offers TouchWiz. These make Tizen OS less confusing than Android Wear. You don't have to take extra effort to quickly access what you need to see.
Apps
Both Wear OS and Tizen OS have a limited selection of applications. There are a few big names that support both platforms.
Most of Wear OS's apps come from Google. Checking notes on your wrist with Google Keep, scrolling through texts with Messages, and using Google Fit in reviewing fitness data are all possible to do. With those, Wear OS is a considerable option. Moreover, with the support of Wear 2.0 for standalone apps, there has been a growing number for more compatible applications. This makes Wear OS feel that it is a stronger platform.
On the other hand, Tizen OS has several apps coming from Samsung itself. You can have the Samsung Fit, SmartThings for home device management, Samsung Internet, and a lot more. However, there are only a few apps from known developers. Tizen also has Spotify, Uber, and Nest. It also has the Mr. Time Maker.
Health And Fitness
People are buying smartwatches to track their physical activities. When you are in a camp, Galaxy Watch may be a better choice compared to Google Fit. Wear 2.0 offers a lot of workout challenges and standalone apps.
The Galaxy Watch and Watch Active remind you to stretch if they detect that you haven't moved in a while. Moreover, the Galaxy Watch Active and Active2 can help measure the blood pressure with an app. However, it is not yet tested. The platform of Samsung Health is improving with every software update and is more complete compared to Google Fit.
Get The Best From Tizen OS
Tizen has already proven its capabilities to provide innovation. It has a lot to offer not only to smartphones but also to different devices. These devices include wearables, TVs, DVRs, cars, appliances, and gaming consoles, to name a few.
Samsung is capable of bringing what the consumers want. It was able to provide products that are useful to consumers. It can always accommodate changes for the better. Also, its products are getting better and better as time goes by. With Tizen OS, we can expect more. We can get the best that we expect not only from our smartphones but also from the device that we use in our home.
There's no doubt that Tizen OS can bring changes. Although it's not the most used OS, it has already proven its worth.
If you want to read more about other Mobile Operating systems such as KaiOS, Ubuntu Touch, and Sailfish OS, we have articles that you might want to check out.