Racing games give players the thrill and experience of driving without having to get in a real car. From Need for Speed to Mario Kart, these games are as popular as they first came out. The best thing about it? You can play them on your mobile phones as well.
With mobile racing games, you'll get to participate in any car race whenever and wherever you like. Unlike playing on a PC or console, you don't have to purchase discs or cartridges. The games can be easily downloaded from app stores for free. Mobile racing games don't require handheld controllers as well.
Ready to be the next racing champion? Here are 20 of the top racing games for Android and iOS mobile devices.
1. Fast & Furious Takedown
OS: Android | iOS
One of the biggest racing film franchises is now available as a mob racer game. You can relive the adrenaline rush and play as if you're one of the Fast & Furious crew. It includes missions similar to those in the film and allows you to race with players from around the world. You can even race behind some of the most iconic cars from the movie.
The graphics are not as crisp and realistic, but this is expected from racing games for mobile. What's important are the game features that make it one of the best racing games this year.
2. Top Speed: Drag and Fast Racing
OS: Android | iOS
In this top-rated racing game, you'll play as a mafia underdog racing against 20 criminal overlords. You can choose to race in any of the 69 cars, from classic stock cars to heavily modified dragsters and even police vehicles. The setting, storyline, and sharp graphics of this game make it a great addition to your racing game apps.
You can purchase upgrades for the game, but the app itself is free. Make sure to download the correct Top Speed app from the developer T-Bull.
3. Crazy for Speed 2
OS: Android
Crazy for Speed 2 is a better version of its predecessor. With better graphics and more racing challenges, it's one of the top-rated racing games for phone users. Not a pro racer yet? Don't worry, this game even has a Driver's license exam mode – perfect for those who are perfecting their driving skills! You can also play using career mode if you're pretty confident with your driving.
Crazy for Speed 2 is only available for Android users. However, iOS users can opt to download Crazy for Speed.
4. Street Racing 3D
OS: Android | iOS
In the mood for street racing? Download the Street Racing 3D app and try drifting on asphalt tracks on the city streets. There is an introductory tutorial in racing so you'll know what to do. The 3D graphics look sharp and stunning as well, it's like joining a real street racing. There are also 30+ cars to choose from, which you can customize with decals, paints, and more.
Join legitimate street racing without getting in trouble through this mobile car game. This app is developed by Ivy.
5. Highway Getaway: Police Chase
OS: Android | iOS
Play as a runaway driver and outrun police cars with Highway Getaway. If you're looking for a unique adrenaline rush without getting into real trouble with the cops, this game is for you. This game has over 200 missions to complete. Plus, you don't always have to be the bad guy – you can be the one chasing criminals and putting them behind bars too.
This action-packed game is free for both Android and iOS users. It is developed by Vivid Games S.A.
6. Drag Battle
OS: Android | iOS
Experience a true-to-life drag racing game with Drag Battle. Aside from the beautiful graphics of this game, what makes it great is the attention to detail that the developers put in. It factors in aerodynamics, tire composition, weight distribution, power-to-weight ratio, and more. This game incorporated the real driving physics involved in automobiles, which makes it more awesome.
This is one of the best mobile phone car games for both Android and iOS. It is developed by Ice Storm.
7. Race Kings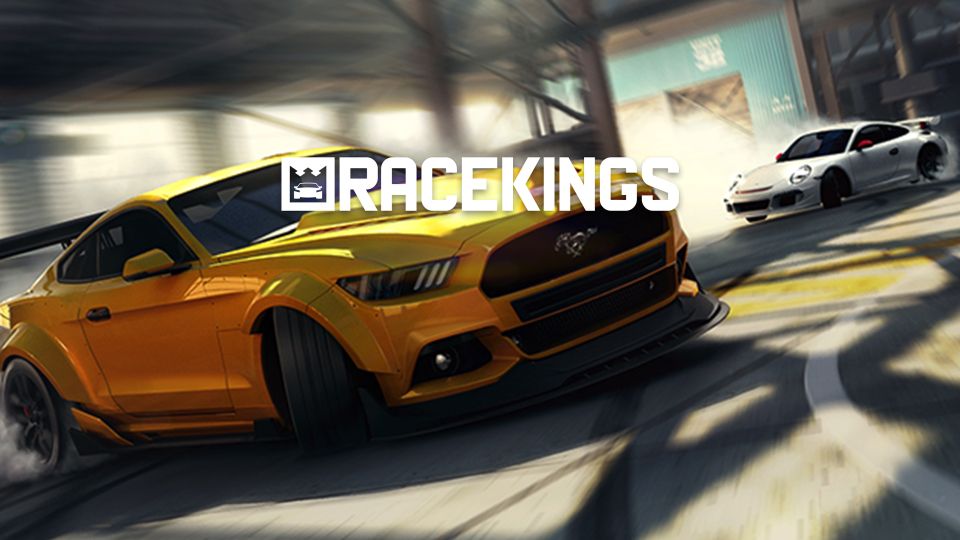 OS: Android | iOS
Tired of offline, first-person racing games? Race Kings lets you play with live players in real time, all the time. You'll get to race with another driver live through dozens of tracks and stunning racecars. You can even place bets on yourself if you're 100% confident about your racing skills.
This exciting game is developed by Hutch Games. It's free and offers in-app purchases if you wish to upgrade.
8. Perfect Shift
OS: Android | iOS
The high-quality graphics and the smoothness of the game make it one of the top-rated racing games on Google Play Store and the App Store. It features superb sound and light effects as well as tournaments where you can challenge opponents for the championship. You can even customize your dream car, upgrade your engine, gearbox, nitro, tires, turbo, and more.
This app by Lextre is free to download but allows you to purchase virtual items within the app.
9. Drift Max Pro
OS: Android | iOS
If you have been playing mobile racing games for a while, you're probably familiar with Drift Max. However, this new game is even better. Drift Max Pro is created by the same developers but has better game modes, features, and graphics. You can play daily track race, classic drift race, slalom drifting, cone toppling, perfect drift racing, and free ride. The car modification feature of this game is on point as well.
If you're a Drift Max player, download Drift Max Player Pro for a better racing game experience.
10. Nitro Nation Drag & Drift
OS: Android | iOS
Want a light car game without the unnecessary bells and whistles? Nitro Nation Drag & Drift is the perfect app for you. It focuses on player driving skills and dedication. Thus, there is no fuel that you have to wait for or delivery time for cars and upgrades. You can focus on winning tournaments, creating a team, and dominating the leaderboards.
This top-rated racing game has an awesome community on various social media platforms. Make sure to download the original app developed by Creative Mobile Games.
11. Need for Speed
OS: Android | iOS
From being one of the best-selling racing games for consoles, Need for Speed is now available as a mobile app. The graphics are very similar to that of consoles and the experience is just as exciting as well. You can customize extreme rides, drive fast and fearless, and race to win.
This app requires an internet connection at all times for you to be able to play. It is developed by Electronic Games (EA).
12. Asphalt 8: Airborne
OS: Android | iOS
Turn your dream of racing luxury cars into reality with Asphalt 8: Airborne. This is one of the best tilt racing games on Google Play Store and the App Store, and for plenty of good reasons. You can hit the ramps and defy gravity by racing through the air with your car. The racecars can even perform 360°-barrel rolls and jumps. Plus, it's not limited to cars – you can race using motorcycles too!
This game is developed by Gameloft SE. It also requires a speedy internet connection for you to be able to play.
13. Gear.Club
OS: Android | iOS
More than just a quick adrenaline rush, Gear.Club prides itself on providing the real racing experience. Complete with fully simulated engines, power trains, suspensions, and driving aerodynamics, it's a great game for pro and amateur racers alike. The graphics are excellent as well, so you can admire your customized racecar in HD.
The game is free to download but offers in-app purchases and contains ads. It is developed by Eden Games.
14. CarX Highway Racing
OS: Android | iOS
Drive your way to freedom from the relentless police and rivals with CarX Highway Racing. If you want a true-to-life game where cops will chase you for overspeeding, then this perfect for you. It also features high-quality car models that are powered by the CarX Engine. There is only one rule in this racing game, and that is to be the first one to cross the finish line.
15. M.U.D. Rally Racing
OS: Android | iOS
If you're into dirt racing or just a light racing game, M.U.D. Rally Racing is a great game to download. You can test your driving skills in different weather conditions, daytime and nighttime tracks, and hostile environments. The tracks in this game are also modeled after famous real-world tracks so you'll feel as if you're really there. Plus, you can invite your friend to be your co-pilot.
16. Rally Racer EVO
OS: Android | iOS
Rally Racer EVO makes it possible to play a racing game with HD graphics and sound technology for just 62 MB. It features 17 rally vehicles, 12 racing tracks, 4 game modes, 85 competitive races, and 32 courses for unique license mode. Although the car selection looks wonderful, it's still considered too few compared to other racing games. Nevertheless, it's a great game that will keep you entertained for hours.
17. Rival Gears Racing
OS: Android | iOS
One of the best-rated racing games for mobile, Rival Gears Racing just got better with new updates. The developers added more car upgrades and less degradation on car parts. This means that it now contains five stages of 15 upgrades: four standard stages with no degradation and a fifth pro stage. Plus, you can either compete alone or be part of a team and get exclusive benefits when you win.
18. Cosmic Challenge Racing
OS: Android | iOS
Try a different kind of racing with Cosmic Challenge Racing, a racing game set in outer space. In this space racing game, you'll drive vehicles that are out of this world in cosmic graphics and sounds. Your progress is uploaded in the Cloud every time you play, so it requires an internet connection while playing.
19. Assoluto Racing
OS: Android | iOS 
Experience how it feels like to be a professional driver by downloading Assoluto Racing. This game lets you purchase, tune, and customize your dream car. You can collect cars from the most popular brands in the world and make it to the top of the leaderboards. Drift, race, or rip up the asphalt with the most beautiful licensed cars from around the world. All you have to do is download the app and start playing.
20. Torque Drift
OS: Android | iOS 
Torque Drift is a straightforward racing game app. Its key features include online multiplayer tandem drifting, custom livery painting, real professional drifting teams, and instant replay mode. Additionally, it lets you impress and earn real brand sponsors and compete in world championships.
21. Dubai Drift 2
OS: Android | iOS 
Race through the streets of Dubai with Dubai Drift 2. An exciting racing game that's packed with awesome racing features, this will make you experience drifting around the Middle East's most populous city. With up to four cars in an arena and the backdrop of Dubai's famous locations, this game will keep you busy for hours on end.