Many people are very fond of downloading and installing tweaked apps on their phones. However, their preferred apps are sometimes not available on their phone. Because of that, they need to download an app that can help them install what they need and prefer. This is when TweakBox comes to the scene.
TweakBox is the best choice for power users. It does not interfere with any services with your device. Also, it can be easily downloaded and regularly updated to protect your device from bugs.
In this article, we will discuss more on TweakBox APK and how to download and install it.
What Is TweakBox?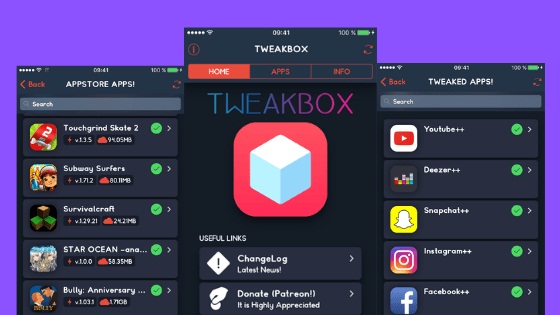 TweakBox is one of the best third-party app installers available right now. It offers all premium apps and games for free. Moreover, this multi-tasking provider uses free and open-source software. With that, you can conveniently store all your preferred apps and games in just one location. Also, it is possible to do that without rooting your device.
TweakBox can jailbreak your device in a much secure and safer way and still provides free apps and games. You can enjoy what it offers more than what any other unofficial app installer can provide. Furthermore, it can help you access applications that are not available on your device's App Store.
TweakBox: Features
TweakBox is indeed an amazing tool that offers a wide range of fantastic features. Here are some of its features:
User Interface
The user interface of Tweakbox is more or less like the Google Play Store itself. It is because the design is very simple yet stylish, and thorough navigation is needed. Aside from that, beginners will not have a hard time using the features of the app. The applications are compiled into different categories. This makes it easy for the apps to be searched and found. Also, it provides a search bar for you to immediately see the application that you prefer.
Completely Free
This application is completely free, and there are no hidden charges.
Automatic Updates
If there is any update in the application, there will be notifications. It is up to you whether to update the application right away or postpone it to a more convenient time.
Lightweight Application
There is no need to worry about the space available on your smartphone. It does not require much space to install, and it runs flawlessly. Together with space, TweakBox helps in saving your internet pack.  It is because it uses the least amount of data to make things work and done.
High Installation Speed
The installation speed of the applications from TweakBox is somehow high. This is because the third-party application stores use servers that are of high quality.
Massive Inventory
This application guarantees an immensely big inventory of tweaked apps and games. You can hardly find a situation when you won't be able to find a particular application. However, if this happens, you can request to the development team, and they will take care of the situation. They will provide a feature within the application where you can place a request for an application that is not presently available in TweakBox.
Negligible Errors
The app may not be as perfect as expected, but the bugs and errors are minimal compared to similar apps.
Customer Support
TweakBox provides customer support that is always ready to assist and work on solutions on different issues encountered by users. There are times that users can't find their favorite apps, and they ask the customer support team to assist them.
No Rooting Required
You just have to install this app like any other apps. There's no need for rooting to enjoy the apps' services.
TweakBox: Categories
TweakBox has a lot of apps stored, and they are sorted into four categories namely: AppStore Apps, Tweakbox Apps, Tweaked Apps, and Hacked Games.
AppStore Apps
You will find free downloadable apps that are paid on the App Store. In this category, you can enjoy your favorite apps for free.
TweakBox Apps
This is the best section of the TweakBox APK. Here, you can find many tweaks, streaming apps, and emulators that can't be found in other App stores. Also, there are available apps for downloading music and watching movies. Moreover, within this category, you will find tools that will help in cleaning and boosting your device.
Tweaked Apps
This section has the top applications that you can find in App Stores. However, these apps are already been modified or tweaked to improve and enhance the experience of the users.
Hacked Games
This is perfect for game lovers. It is full of games and different versions of games that are not available in the Apple or Google Play Store. Furthermore, you can download the hacked versions of your favorite games. With that, you can unlock levels and add coins without spending even a cent.
TweakBox APK: Supported Devices
TweakBox APK is compatible with iPhone, iPad, iPod Mini, iPad Air, iPad Pro, iPod Touch, Android, Windows PC, and Mac.
How To Download And Install Tweakbox APK?
TweakBox APK is available forAndroid, iOS, and PC. Here are the steps on how to get TweakBox APK.
 For Android Devices
You have to navigate to "Settings," scroll down, and tap "Security" on your Android smartphone.
Activate the "Unknown Sources" option under the "Device Administration." It is very important since we will download the application from the third-party sources. If you do not activate it, your Android smartphone will not allow downloading and installing the TweakBox APK.
Download the TweakBox APK from your trusted website. Wait for the app to download. After completing the download, open the File Manager on your Android device, and go to the location where you downloaded the file.
To begin the app installation, press on the APK file.
Wait for the installation to finish.
You will see on the next screen notification of the permission that TweakBox requires for it to run smoothly on your Android phone. You'll need press on ok for you to continue.
After providing the necessary permissions, press "Install" to allow the setup to continue installing the updated TweakBox APK on your Android device.
Be patient as you wait for the installation process to reach 100%.
After the successful installation, you will find the TweakBox APK icon on your Android device's home screen.
To launch the application, tap on the icon. You can now enjoy the tweaked applications and hacked games on your Android device.
For iOS
From your iOS device, launch the Safari Browser. You need to use the Safari Browser only because another browser might not support the installation process. You don't need to jailbreak your iOS device for this purpose.
For downloading visit https://tweakboxapkapp.com/.
To download the TweakBox APK. Tap on any of the provided configuration profile link then tap "Allow" on the message that will pop-up.
After that, the profile page in your iOS settings app will open. Look for the "Install" button on the upper right corner and tap on it for the profile to download.
You need to enter your passcode for the process to start.
The download and installation process for TweakBox will begin.
After the completion of the downloading process, click the "Allow Permission" button in the installation window to install it.
After a few minutes, the app's icon will appear on your iOS device's home screen.
You can now launch the app. Also, you can now easily use it to sideload apps and tweaks on your iOS devices.
You will see different categories on the app screen. From there, you can choose the app or tweak that you want to install on your iOS device.
For Windows PC And Mac Computer
At first, you will need an Android emulator to start the installation process of TweakBox APK. From its official website, download and install the BlueStacks Android Emulator on your Windows PC or Mac. The official website is bluestacks.com.
After completely downloading the setup file, tap on it for the installation process can start. You need to follow the instructions on the screen to immediately install BlueStacks on your Windows PC or MAC Computer.
Once the installation of BlueStacks is completed, navigate to the provided link to download the TweakBox APK.
After successfully downloading the APK file, right-click on it. Select the "Open With BlueStacks" option from the pop-up menu that will be displayed.
BlueStacks will start the installation procedure for TweakBox on your PC or Mac. Wait for a while the installation process is ongoing.
You will see the TweakBox APK icon on the home screen or dashboard of Bluestacks after it is completely installed.
You can now enjoy downloading and installing any hacked, tweaked, or modified application and game for free. Just click on the TweakBox icon to launch it.
How To Use TweakBox APK
Launch the TweakBox APK. Under the "Applications" section, you will see a list of popular applications.
To find the application that you wish to install, browse through the list of applications.
However, you can directly search for your preferred application, and based on your search results, you can move to the application screen.
You can now download the application the same way as to how you download an application from the Play Store. There will be only one process, and that will always be the same. You just have to press the "install" button to start the procedure.
Wait for a few seconds for the application to be installed on your smartphone.
How To Enable Trust For TweakBox
Most apps found in the platform will require users to approve the "allow apps from unknown developers" prompt. To do that, you need to trust the developer within the phone's settings. Here are the steps on how you can do that on your devices.
Open "Settings" on your device
You will then have to click "General."
Choose "Profiles" then "Device Management."
Select the "TweakBox" profile from all the given profiles.
Click "Trust," and when prompted, click "Trust" again to make it trusted from your iOS and Android devices.
After changing the settings, you can freely use all the installed applications.
TweakBox APK: Pros And Cons
Pros:
No limit on the apps and games
Everything is free
Regular updates of the apps
Simple interface
No required accounts
Active customer service to provide updates
Provide hacked versions of expensive games
No limitations on downloads
No required jailbreak
Compatible with the latest smartphone versions
The smooth running of the app
Cons:
Running time is not long
May require re-verification
 Why Choose TweakBox?
 These are some of the reasons why you have to choose TweakBox APK.
Fast
TweakBox is after users' satisfaction. Even there are millions of running apps on their platform; they make sure that every single one of them runs effortlessly. They work actively to effectively run all the apps.
Secure
Tweakbox is very secure. It provides the most trusted applications environment and offers safe apps. It is one of the reasons why it is very popular.
Reliable
Its Social Media team is very active and responsive in answering issues.
TweakBox APK: Common Errors And Solutions
White or Blank Screen
When you encounter this error, launch "Settings" and then "Safari." After that, tap on "Click Website Data" and "Try Again." Once done, the screen should be normal.
TweakBox Stopped Working
TweakBox is an unofficial app. When you encounter this error you need to delete TweakBox and install it again. Open "Settings" then tap on "General" and then "Profiles." After that, tap the "Developer's Name" and "Trust." Once done, close the "Settings." The app will be working after the process.
Profile Installation Failed
Apple servers have too much ongoing traffic. If nothing happens after a couple of hours, you have to enable "Airplane Mode." Go to "Settings" and then Safari. Tap "Clear History" and "Website Data." After that, disable the "Airplane Mode" and wait for a while. After a couple of minutes, install the app again, and everything will work fine.
Unlock Your Device's Potential With TweakBox APK
We always want to catch up with the latest on mobile applications. However, our devices provide not enough of these applications, so they do not meet our expectations. They can perform their best nevertheless they are restrained to perform such capacities. TweakBox offers all premium games and applications that we can install on our devices. Moreover, the TweakBox APK helps unleash all the capacity of our devices. It allows the users to modify the system, install amazing apps manually, and enjoy hacked games for added fun. If you're looking for an alternative to TweakBox, here is our guide on Cydia Impactor. You can also read our how to jailbreak iOS and unc0ver guides if you want to install apps via jailbreaking your iOS device.